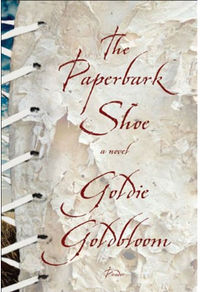 BACK
THE PAPERBARK SHOE
From 1941 to 1947, eighteen thousand Italian prisoners of war were sent to Australia. The Italian surrender that followed the downfall of Mussolini had created a novel circumstance: prisoners who theoretically were no longer enemies. Many of these exiles were sent to work on isolated farms, unguarded.
The Paperbark Shoe is the unforgettable story of Gin Boyle - an albino, a classically trained pianist, and a woman with a painful past. Disavowed by her wealthy stepfather, her unlikely savior is the farmer Mr. Toad - a little man with a taste for women's corsets. Together with their two children, they weather the hardship of rural life and the mockery of their neighbors. But with the arrival of two Italian prisoners of war, their lives are turned upside down.
Thousands of miles from home, Antonio and John find themselves on Mr. and Mrs. Toad's farm, exiles in the company of exiles. The Paperbark Shoe is a remarkable novel about the far-reaching repercussions of war, the subtle violence of displacement, and what it means to live as a captive - in enemy country, and in one's own skin.

Goldie Goldbloom is an Australian novelist and short story writer. Her novel THE PAPERBARK SHOE won the Association of Writers and Writing Programs Award for Fiction and the Foreword Magazine Novel of the Year. She's been awarded a National Endowment for the Arts fellowship and a Dora Maar House-Brown Foundation Fellowship. Her book, On Division was chosen to be San Francisco's One Bay One Book selection for 2020. She teaches creative writing at Northwestern University, Chicago, and is the mother of eight children. Goldie is chassidic and an LGBTQ activist.
Available rights (1)
German (World)
Interested?
Just go to rightsdesk to get further informations Rightsdesk - The platform for licensing translation rights.
It´s free and you will find more than 25 thousand titles there!
You can leave a note for Marianne Merola

Weblink:
https://www.goldiegoldbloom.com/


Similar titles