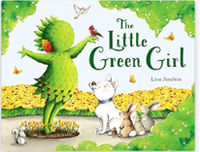 BACK
THE LITTLE GREEN GIRL
A heartwarming and wildly imaginative tale about broadening your horizons, with a wonderfully unique father-daughter pair at the root of the story.
The Little Green Girl is no ordinary topiary. She dreams of visiting far off places and exploring the world beyond her garden's walls. But for her gardener, Mr. Aster, the prospect of deviating from his daily routine--let alone leaving his beloved home--is unimaginable. Try as she might, the Little Green Girl can't uproot herself and set off on her own. To realize her dream, she'll have to find a way to show Mr. Aster that it's possible to carry a bit of home with you wherever you go.

Lushly illustrated and brimming with charm, The Little Green Girl is an ode to broadening your horizons and the unexpected rewards of experiencing the unknown.

Lisa Anchin is a Brooklyn based writer and illustrator. She holds a handful of degrees, most recently an MFA from the School of Visual Arts' Illustration as Visual Essay program. Lisa lives with her husband, daughter, and studio cats.
Available rights (1)
German (World)
Interested?
Just go to rightsdesk to get further informations Rightsdesk - The platform for licensing translation rights.
It´s free and you will find more than 25 thousand titles there!
You can leave a note for Sebastian Ritscher

Weblink:
www.lisaanchin.com/


Similar titles