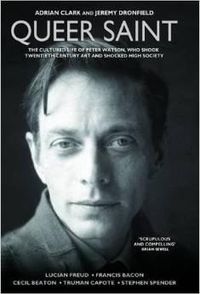 BACK
Queer Saint
The Cultured Life of Peter Watson
Peter Watson (1908-1956) supported a whole range of British artists financially and in other ways. He also funded the creation of the cultural journal, Horizon, installing his friend Cyril Connolly as its editor. He himself found the art contributions which ranged far and wide across the European and American cultural worlds.
Then, in early 1946, he worked with Roland Penrose and Herbert Read to create the Institute of Contemporary Arts, thereafter curating exhibitions for his favoured artists. He also built up an extremely wide ranging collection of art, by many of the great 20th century masters, such as Picasso, Soutine, Renoir, Gris, Klee and Leger, and also the leading British artists of the time including Bacon, Freud, Sutherland, Piper, Craxton and Henry Moore.
A life long homosexual, he was probably murdered by his last boyfriend and heir Norman Fowler in 1956. Having been the object of Cecil Beaton's affections, he has tended to be seen either through the prism of Beaton's Diaries and also through those focussing on Cyril Connolly and Horizon. Adrian has written a full biography of Peter Watson so that his varied life and achievements can be put into their proper context.
Available rights (62)
Afrikaans (World) Albanian (World) Arabic (World) Armenian (World) Belarusian (World) Bengali (World) Bosnian (World) Bulgarian (World) Burmese (World) Catalan (World) Chinese (World) Chinese simplified (World) Chinese traditional (World) Croatian (World) Czech (World) Danish (World) Dutch (World) English (America USA) Estonian (World) Finnish (World) Flemish (World) French (World) German (World) Greek (World) Hebrew (World) Hindi (World) Hungarian (World) Icelandic (World) Indonesian (World) Italian (World) Japanese (World) Kashmiri (World) Khmer (World) Korean (World) Lao (World) Lithuanian (World) Macedonian (World) Malay (World) Mongolian (World) Multiple Languages (World) Nepali (World) Norwegian (World) Pashto (World) Persian (World) Polish (World) Portuguese (World) Romanian (World) Russian (World) Serbian (World) Serbo-Croatian (World) Slovak (World) Slovenian (World) Somali (World) Spanish (World) Swedish (World) Syriac (World) Thai (World) Tibetan (World) Turkish (World) Turkmen (World) Ukrainian (World) Vietnamese (World)
Interested?
Just go to rightsdesk to get further informations Rightsdesk - The platform for licensing translation rights.
It´s free and you will find more than 25 thousand titles there!
You can leave a note for Andrew Lownie
Sold rights (1)
English (United Kingdom)

Weblink:
http://www.andrewlownie.co.uk/authors/adrian-clark/books/queer-saint-the-cultured-life-of-peter-watson


Similar titles