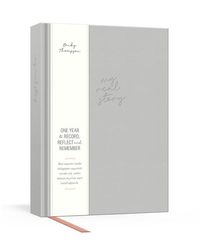 BACK
MY REAL STORY
One Year to Record, Reflect, and Remember
What if you were able to recognize the story that God was writing in your life as you
were living it? A popular blogger to millions of women helps you answer that
question for yourself, as you create a unique keepsake journal.
Becky Thompson invites you to reflect on your own spiritual journey. With mini-devotions from Becky, artistic scripture verses, personalized prayers, reflection pages, and spaces where you can record those moments you don't want to forget, My Real Story will encourage you to look back through the different seasons in your life in order to capture the heart of who you are in Christ.

ON-TREND DESIGN AND PACKAGING: 2-color interior, lay-flat binding, satin ribbon marker, dyed wibalin cover over flexibind, with bellyband

SIGNIFICANT SOCIAL MEDIA PRESENCE: The author's blog site, BeckyThompson.com, receives over 5.4 million unique visitors a year. Author has over 100,000 Facebook followers, 14.3k Instagram followers, and 2.5k Pinterest followers. Author just started podcasting at Revived Motherhood podcast and has 19.5k downloads of her first 5 episodes.

PASS-ALONG VALUE: Consumers will pick this up as a gift for any woman wanting to record her story.

BIBLICALLY SOUND: Thompson, a pastor's daughter, draws on Scripture to encourage readers to see God in the details.

About the Author/Illustrator
BECKY THOMPSON is the author of Hope Unfolding, Love Unending, and Truth Unchanging. She speaks frequently to the issues of balancing life as a wife, mother, and daughter of God. She is known as the author of BeckyThompson.com (formerly Scissortail SILK), a blog that reaches a global audience of readers in need of hope, healing, and the Father's love.
Available rights (1)
German (World)
Interested?
Just go to rightsdesk to get further informations Rightsdesk - The platform for licensing translation rights.
It´s free and you will find more than 25 thousand titles there!
You can leave a note for Marc Koralnik
Similar titles