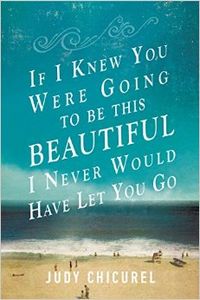 BACK
IF I KNEW YOU WERE GOING TO BE THIS BEAUTIFUL, I NEVER WOULD HAVE LET YOU GO
For fans of Jennifer Egan's A Visit from the Goon Squad and Bobbie Ann Mason's In Country, this debut is about a young woman and the small working-class town she lives in, and how both come to experience the effects of Vietnam and the massive changes on the horizon.
It is the summer of 1972, and Katie has just turned eighteen. She was "finished with school and ready for real life. It was summer, and anything was possible." When not hanging out with her friends Nanny and Liz, Katie tries to catch the eye of Luke, recently back from Vietnam, whom she has loved from afar for years. Katie and her town, Elephant Beach—a fictionalized version of Long Island, New York's Long Beach—are both on the verge: Katie of adulthood, and Elephant Beach of gentrification. But quite not yet: Elephant Beach is still gritty, working-class, close-knit; and Katie spends her time smoking and drinking with her friends, dreaming about a boy who barely sees her.This impeccably crafted, hugely affectionate, and ultimately moving novel-in-stories is also a vivid portrait of a place whose conflicts—between mothers and daughters, men and women, haves and have-nots—reverberate down the years to our own time. IF I KNEW YOU WERE GOING TO BE THIS BEAUTIFUL, I NEVER WOULD HAVE LET YOU GO shows us where we came from, what we dreamed we could be, and how far we still have to go.

Unlike many collections, this isn't a book you dip into and out of between stories. You'll want to read from start to finish. These really are connected stories, or a novel in stories; there's a single narrator, a recurring cast of characters, and a defined sense of place.

Judy Chicurel's work has appeared in national, regional, and international publications, including The New York Times, Newsday, and Granta. Her plays have been produced and performed in Manhattan and India. She is currently a resident at the New Perspectives Women's Work Playwrights Lab and a member of the New York Writers Coalition, and she is a past fellow in the CUNY Graduate Center Writers' Institute fiction program. She lives in Brooklyn and grew up in Long Beach, Long Island.
Available rights (1)
German (World)
Interested?
Just go to rightsdesk to get further informations Rightsdesk - The platform for licensing translation rights.
It´s free and you will find more than 25 thousand titles there!
You can leave a note for Sebastian Ritscher
Similar titles